By: Village Ashanti Publishing
I remember the illusive blue ticket when my family and I were to attend the presidential inauguration in Washington D.C. This ticket allows access to the parade rout of the presidential inauguration or an up close and personal experience to the presidential swearing in ceremony.
"Just come on, think positive, we'll get in," she says.
"Listen. This is the most guarded event in the nation. Honey, you think we're gonna just walk up to the secret service and without tickets they'll let us in? Look how long this line is. It's 22 degrees and I'm not standing in this long line to be told I can't get in," I firmly respond.
"Me and the kids are going to stay in this line, you can leave if you want to," her final offer.
Fast forward.
…We stand in this line (do you seriously think I would leave) for over an hour. Little by little we inch our way up to the security check point. There are three people ahead of us before we are to enter the search tent. I prepare the kids, because I know we well have to turn around, before we enter the tent. Suddenly, the women in front of us turns, begin to open her purse as she says.
"I don't think that I want to go anymore, it's too cold."
She opens her purse and at that time she offers…
"Does anyone want my tickets?"
Before she could finish her offer; I instinctively reach towards and at her purse to grab the tickets. Long story short; I was able to gain access for my family of four as well as the family of three behind us into the event. Incidentally; we were later vetted (unbeknownst to us at the time it was happening) by a secret service agent that led us to sit at the grandstand next to the presidential booth.
My point; the kindness this stranger was gifted out in the form of a gem. She could have easily sold these tickets for 100's of dollars. Well, there is another stranger, at least a stranger at one time. However; now a comrade of the war against covid-19.
Thanks to my incredible sister. She too is a first line defender there in Orlando Florida. As a Nurse Practitioner at Central Florida Healthcare Urgent Care Walk In Clinic. She has dedicated her daylight hours to combating this silent enemy, covid-19. As she and I casually compared battle stories of the processes involved she mentions her face shield that she wears. I simply commented on how I would be a lot more protected with the addition of a face shield because my prescription glasses fog up behind the face goggles.
"Hold on, let me text the co-owner of the facility where I work and see if he can help."
The face shield is just as illusive as the blue ticket. Mr. Victor Caputis  co-owner of  Central Florida Healthcare Urgent Care Walk In Clinic, answers the call of duty. Under his direction, the family over at Central Florida Healthcare Urgent Care Walk In Clinic will sponsor a first line defender here at New York Presbyterian Queens. The illusive mask is part of the support package offered.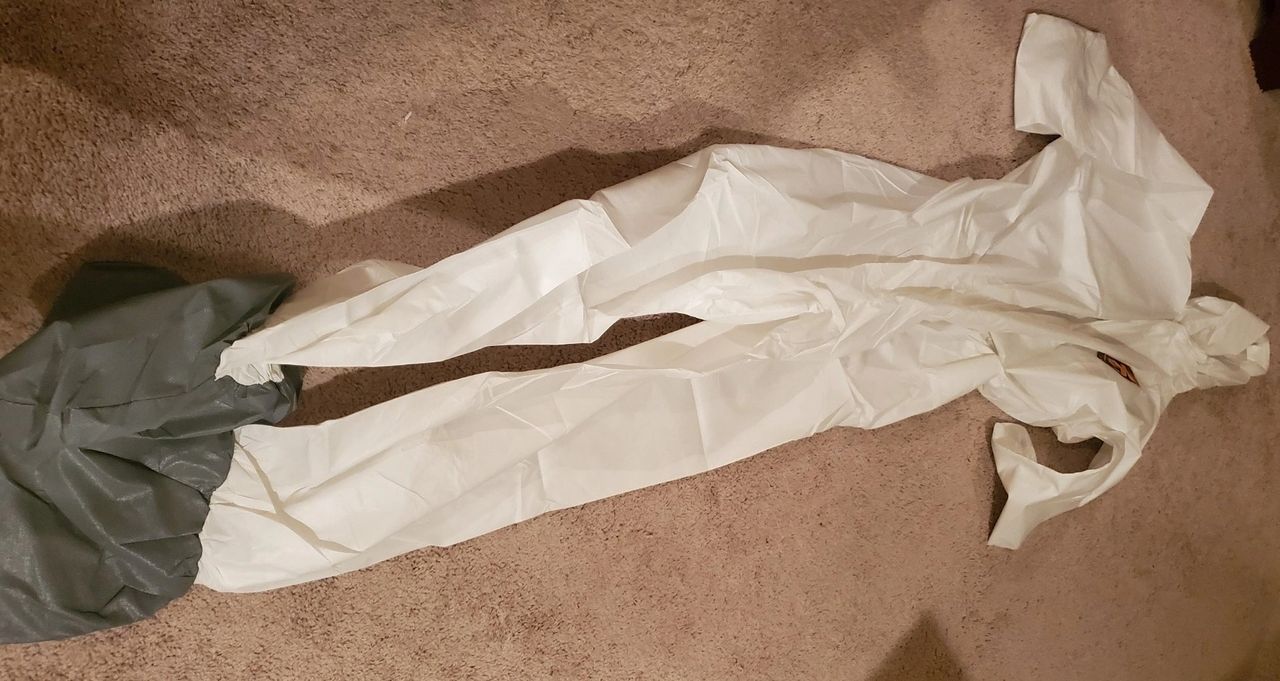 However; to a greater surprise Mr. Caputis  commitment to sponsorship, includes an even greater gem. The out of supply and back ordered haz-mat (hazardous material) suit.
As a token of appreciation; an offer is made to Central Florida Healthcare Urgent Care Walk In Clinic to pay for fees to have the equipment expedited. Mr. Caputis response, "…he will pay for nothing."
Life is truly about balance. Balance in the form of Unconditional Love as exemplified by team Central Florida Healthcare Urgent Care Walk In Clinic. For as many of civilians and their family(s) negatively affected by this silent enemy there are as many  heroes going the extra mile, sharing positive energy. An example of Unconditional Love as Central Florida Healthcare Urgent Care Walk In Clinic demonstrates, An energy that's necessary to conquer this enemy in a world wide arena.
So make no bones about it -go ahead and show your pearly whites: with a OORAH! to  team Central Florida Healthcare Urgent Care Walk In Clinic, under the tutelage of owners Mr. Caputis, Dr. Enea Bifsha, DMD and Dr. Iva Bifsha, M.D.
I put the call out…